Regular price
Sale price
$175.00USD
Unit price
per
Sale
Sold out
Eyes have been used as symbols in jewelry for thousands of years across the globe. To many, they represent protection--an all-seeing eye that never shuts, keeping an eye out for you at all times. To others, it represents the third eye--an eye that sees beyond the physical world and opens intuition. 
The pupil of the eye holds a faceted gemstone of your choice, representing a multi-faceted vision and holding a multitude of perspectives. The eye's iris was detailed with a specialized engraving technique that is known around the world as Florentine Finish, although in Florence, it is known as "seta", or silk. Thousands tiny lines are hand-carved into the metal, resulting in a finish that shimmers and catches the light like no other. 
I also have a smaller version of this pendant, the Mini Third Eye Protection Amulet.
This listing is
for the pendant only
. Chains & charm-droppers are sold separately. Check out my
Chain Library
 for several different options, or you can use a chain you already own. 
Details

Sterling silver, contrasting high shine and oxidised finish.
3cm tall (including loop) & 2.75cm wide

Delivery Timeline

This is a made to order design. Please allow up to three weeks for your jewel to come to life and ship...I usually get orders out quicker than this, but being a one-woman-show, this is the maximum amount of time that it could take. If you are on a tight deadline, let me know before ordering and I will let you know how quickly I might be. I usually have many of my made to order designs in stock and might just have what you are looking for available to ship much sooner.

Because each piece is created individually by hand, no two pieces are ever completely identical.

Customs & Personalisation

If you would like me to source a different gemstone that those listed, would like a gold bezel or gold details, or have another idea to personalize this design, please get in touch.
Payment Plans

Two interest-free options available:
-Option 1: Afterpay or Paypal's Buy now Pay Later may be available to you depending on your location. You will commit your card to regular instalments, and will receive your jewel in normal processing times instead of waiting to pay in full
-Option 2: Get in touch, and we can work out a payment plan based on your needs. I can put aside a piece for you as you pay at your own pace. Your jewel will be shipped once the jewel has been payed for in full.
How it's made

Each piece is handcrafted with my two hands using ancient goldsmithing techniques.

There is no use of moulds or casting in my workshop. Each piece is individually hand-fabricated...check out this article I wrote to learn more.

My designing and making process is filled with great attention to quality and detail.
View full details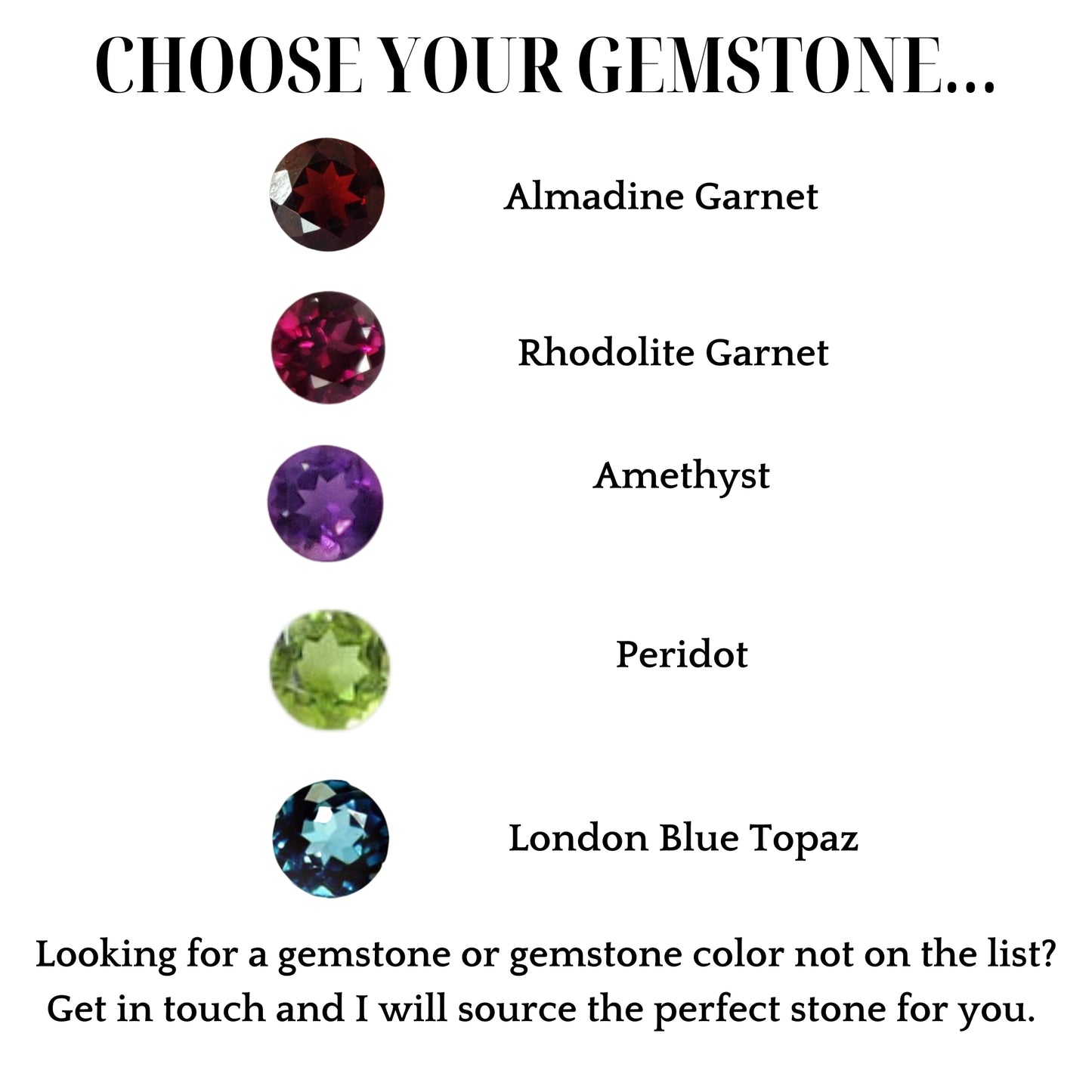 Eligable orders ship FREE...

Italy-spend $100
EU & UK-spend $200
USA & Canada-Spend $300
Click here for full list of shipping offers